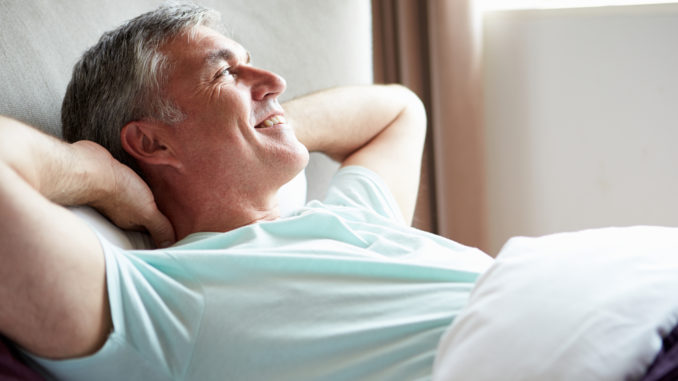 Back and better than ever…
———-
Hey, Matt Cook here, and suppose you get the chance for a complete do-over…
A do-over for your health, your sexual function, your entire life as a man…
Imagine what it would be like to press the reset button and start fresh…
To wake up with great morning wood like you used to get as a teenager…
To have strong, lean muscles and a metabolism that never slows down…
To have perfect pressure, great blood sugar, high testosterone…
…and to never need a pill or surgery ever in your life…
Imagine how great it would be to always be in control of your own health…
To not have to spend all your savings on doctors visits and tests and prescriptions.
Picture feeling as good and healthy and virile as you did 20 or 30 years ago…
…and taking your wife or girlfriend to bed and lasting an hour without even trying…
And not just feeling this way once in a blue moon…but feeling this way every day for the rest of your life, until you're 90 or 100 or beyond…
Well that's what I'm offering you today with my new and improved

Matt Cook Success Kit 2021

.
This Success Kit is your chance at a complete do-over in 2021.
It's your personalized toolkit designed especially for you and your unique situation…
Put together carefully and precisely by me with you and your situation in mind.
And it's here to help you transform your life into everything you want it to be.
So if 2020 hasn't been your year…or if you've been feeling stuck for a while now…
Don't miss this chance to get a whole do-over and have the health and sexual performance you've always wanted.
Because right now, the

Matt Cook Success Kit 2021

is completely free.
I'm giving it away as a special gift for the holidays.
And for the first time ever, I'm also hosting a live coaching call…
…where you can call in and stay anonymous, but get all your burning questions and concerns answered live.
It's going to be quite the event and I know you'll get a lot out of it.
And even if you don't participate in the live call, you're still going to be getting access to everything else…
…all the breakthrough methods and revolutionary health and sex discoveries that have transformed the lives of more than 40,000 men like yourself.
And it will all be free…when you try my

Extreme Sexual Pleasure

course for $1…
With Extreme Sexual Pleasure, you will:
Discover sex as it should be — what I call "Nirvana" sex. It is SO much more pleasurable than anything you've ever experienced before in the bedroom. Once you try Nirvana sex, you will never want to go back to doing it the old way. There is nothing else like it in the entire world…
Use the Neurotrophic Factor to increase sensitivity in your male member, so you feel more and more and MORE pleasure. This fortifies the brain-penile connection, so your member receives stronger "get rocky" signals and stays harder for longer… so you can keep feeling that pleasure for as long as you want…
Share the Pleasure Protocol with your wife or girlfriend to deepen your connection and sexual attraction to each other. You will naturally raise oxytocin, the love and intimacy hormone, which is 100 times more powerful for getting great "rockiness." And it will also raise HER libido and make her want to do it with you all the time…
Discover the Sexual Lens — the strange, electrifying method that pulls women to you like a magnet. This is amazing for single guys because it takes all the work out of picking up women because SHE will approach YOU. And she will be buzzing with attraction for you. Also works for married men and men in committed relationships.
If you ask me, that's quite the bargain!
You're getting my entire

Extreme Sexual Pleasure

course for $1 AND the

Matt Cook Success Kit 2021

for free.
Honestly, my publisher isn't too happy with me for giving all of this away for pennies…
This Success Kit is valued at $197…
But I had you in mind when I decided on giving the Success Kit away for free.
Because I know you are a man who takes initiative and goes after what you want…
You don't sit around waiting for things to be handed to you…
But in this case, I'm handing you the key to a better life!
And all you have to do is take it and open the door…
Just use the special discount code: SUCCESS
Warmly,
–Matt Cook
———-