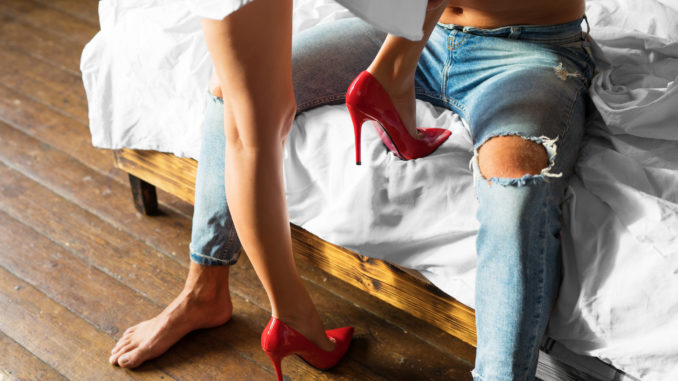 Boost her libido with this new natural protocol
———-
Hey, Matt Cook here, and this week, I've shared with you some of my findings on women's sex drives…
Mainly, why women lose their drive in the first place, and what we can do to bring it back.
Mostly it comes down to a woman's hormonal makeup.
And many things can change a woman's hormonal makeup and make it so her drive practically disappears:
Stress or anxiety
Big Pharma treatments
Big life changes
Trauma
Menopause or perimenopause
All of these things can make it nearly impossible for women to have a high libido.
But the good news is that it's not a hopeless case for men.
It's entirely possible for a woman's drive to be completely restored, no matter how long it's been.
And you can do it naturally at home, with some over the counter supplements and vitamins used in a unique way!
I'm showing you exactly how simple it is with my new Up Her Drive Protocol.
And I'm so excited about finally being able to share this with you that I want to give it away free.
Of course, my publisher isn't as excited as me about giving it away free, so he's put a cap on this offer.
And we are just about to hit that cap, so time is running out for you to get this for free.
Here are all the benefits men can get out using my new Up Her Drive Protocol:
Reboot and restore a woman's sex drive…

Using this mixture of natural supplements and vitamins applied in a unique way creates the right hormonal balance for a woman's sex drive to flourish…no matter why she's lost her drive or how long it's been…
After a few days or a few weeks, women start feeling their drive and desire for intimacy return…they are feeling things they haven't felt in months, maybe even years…

Potentially increase her drive to new heights…

One of the biggest benefits of this natural protocol is how it may even increase a woman's drive beyond what it was before…
So women who always had a low sex drive may find that they are suddenly "in the mood" all the time and wanting it badly morning, noon, and night! Just make sure you have the energy to keep up with her new desire!

Improve a woman's natural lubrication potential…

When women's hormones are out of balance from menopause, perimenopause, or something else, it can cause vaginal dryness that makes sex painful or impossible…
The Up Her Drive Protocol naturally counteracts vaginal atrophy that happens as a woman gets older — so she will stay wet down there for you no matter how long you've been together, and it will feel really good for you and her all the time!

Can help prevent PCOS and other female problems…

The natural supplements and vitamins in this protocol can help smooth out a woman's fertility cycle, so periods are more regular and produce less unwanted symptoms…
This may even help prevent Polycystic Ovary Syndrome (PCOS) and other hormonal conditions that hurt a woman's sex drive and cause her to lose interest in sex…

Relieve unwanted symptoms of menopause or perimenopause…

It's inevitable that women will go through menopause at some point in life — but it doesn't have to be a bad thing. Thanks to the Up Her Drive Protocol, many women find these transitions easier and less noticeable…
Symptoms like hot flashes, dryness, and mood swings become less frequent when hormones are stable…and instead of sex drive swinging between extreme highs and lows, it stays high and healthy, much to your enjoyment!

Enjoy a fun and exciting sex life for the entirety of your relationship…

Most women have just a high a sex drive as men, but their hormones get in the way… that's why it's so common for women to suddenly start losing interest in sex once you've been together for a while…
It's not your fault and it's not her fault! And with the Up Her Drive Protocol, you can prevent sex drive from falling over time. So your desire for each will stay well-matched for the entirety of your relationship, allowing you to enjoy each other fully in bed as long as you are together…

May make a woman more open-minded to trying new things…

Some men are reporting that their wives or girlfriends are becoming more open-minded in the bedroom now that their drive is back!
Suddenly, these women are more interested in oral sex, in trying anal, in giving their man more pleasure…they have a new sexual appetite and they're looking to you to help satisfy it!

Increases sexual frequency…

Research shows that the more women have sex, the higher their drive is. So once you restore her drive, she will naturally want more sex… and then having more sex will make her want to have even more sex… and what a lovely cycle for you to be a part of!
Now she is going to be the one initiating sex for a change, and much more often than you ever expected! And you will be enjoying sex every day or every other day, maybe even twice a day…

…and even more!
Get my new Up Her Drive Protocol for free — offer going away very soon
Warmly,
–Matt Cook
———-